October 2013 | Félibrée, SPANC drainage and planning in the Pyrénées
MONDAY
A fresh start to the week and a fresh project to get my teeth into. Matt and Tess North are a young couple who have just signed for a building plot in one of the nearby villages, where the Mairie has released a block of land for building. Rural communes often do this to counter population drift to the cities, to keep the commune alive and to add a little extra to their coffers.
We meet on site with their two toddlers and we marvel that such a wonderful village-edge plot with views, trees and sky can be such good value. The best view is off to the south, which is a good and a bad thing as opening the house to the view will also let in the hot sun if we're not careful. We arrange to meet tomorrow at the office to put a brief together and I suggest they bring photos of houses they like and maybe a sketch of how they see the house being laid out, just as a starting point for discussion. I make a mental note of the time as I've managed to leave both my diary and, more importantly, my glasses behind. Senior moment.
TUESDAY
I get the time right however and we gather round the oval table in the morning sun with pens, paper, photos, sketches, toys for the kids and my glasses. They have an initial budget around €250k but expect to put more money into the house over the years, so we need to create a living hub at first which can then be extended as funds allow.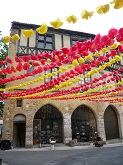 Tess produces her sketch layout, which she apologises for but which in fact I find really useful. One of their requirements is a secure playspace for the kids, and Tess's solution is a courtyard house. Then it's my turn to start scribbling, first drawing a simple square on the site, the courtyard itself. I then dispose rooms around it to welcome visitors, to take in the views, to create shaded outdoor areas and to keep cars away from the lawns and pool. At the end of an hour we have the bones of a scheme which can be phased as necessary, and which works from day one. I now need to work this up into a design that doesn't cost the earth and will pass through Planning.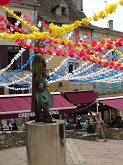 Later on I have a spare half-hour between meetings in Bergerac, and take in the floral decorations created for the 2013 Félibrée, the festival of all things Occitane, the medieval culture of southwestern France. This inevitably also includes wine, being the 'Oc' in the Vin du Pays d'Oc that we all know and consume with such due moderation. I get the chance to people-watch over my coffee, which I love to do but never seem to have the time for these days, and the warm sun means that approximately 93% of them are smiling.

WEDNESDAY
Here's another fine catch-21 I've gotten myself into. After mislaying my glasses again, I go through the post and come across a letter from the Planning office down at Tarbes at the foot of the Pyrenees, about the Permis Modificatif we put in for our clients.
I should explain: we got permission for a new house a couple of years back, but the clients have decided to build something more modest and we put in a fresh Permis application. The Planners told us this was incorrect and instead we should put in an amendment, a Modificatif.
Today's letter is to tell us that the changes are too significant and we need a fresh Permis application instead, just like we originally did. I can see this see-sawing on for years, and I ring their office to get a definitive answer. No reply.
THURSDAY
I drive out of town (no time for the bike) to see Mike Connaught, an old client whose house we refurbished a couple of years ago to talk through a new barn conversion. The house has really settled in nicely now and we compare the it to some photos Mike took before work started, such a change!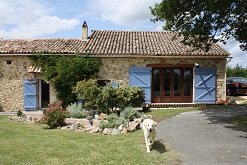 We discuss timing for the new application, which will take longer to submit than the last one due to changes in the application process. The rules now say that every Permis application must be accompanied by a Certificate of Conformity from the drainage authority, and to get this we need a soil study done, and the soil engineer needs the internal layout of the building to produce his report. So when we've done our work we have to wait for the soil engineer and then the drainage authority (the unfortunately-named SPANC) to do theirs. This being France it can now take up to two months between the drawings being ready and the application going in. I shall need to short-circuit this issue for Matt and Tess by asking the soil engineer to do his trial holes ahead of our sketch scheme, as the terms of purchase of the land only allow us two months altogether to submit the Permis. Let's hope I can persuade him to do it this way.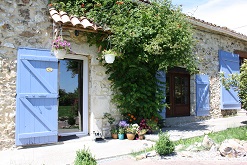 FRIDAY
Time to get cracking on Matt and Tess's sketch scheme, but I can't find my glasses again. I search everywhere except the office cats' litter tray but they're nowhere to be found. I know I had them just a few minutes ago but they've vanished. I go into Charlotte's office to ask her if she's seen them, and she looks at me with a mixture of confusion, amusement and despair. "You're wearing them," she says.

Neil Vesma's Architect's practice is at Villeréal, south of Bergerac.
Tel 0033 675 847 176 www.neilvesma.com