September 2013 | Maison à Empilage and St Jean de Luz
MONDAY
I scramble out of the ditch, hoping the tractor driver hasn't seen me, but he has. I can almost see him thinking "rat des villes", townie, as he drives off with a cheery wave. I had asked him for directions to a Listed building and he'd pointed across the field to a tiled-roof house nestling in a hollow only a hundred metres away. I'd stepped off the tarmac without looking, and straight into the fossé, the ditch that runs alongside almost every lane around here, that serves as fence, boundary line and drainage facility all at the same time. This one also served as a home for some rambling roses, so I've clambered out scratched and smarting.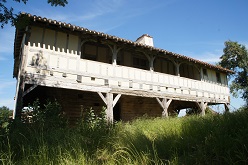 When I get there, the house proves to be worth the pain. Dating from the 12th century, its ground floor walls are in empilage, great rough-hewn baulks of oak put together log-cabin fashion, with an external staircase up to a galleried first floor. It obviously hasn't been lived in for some time but equally obviously has had a good deal of money spent on its upkeep.
I should say I'm nosing around here as I have a campsite project inside the 500-metre radius around the house which is protected land. The ABF, the conservation planners, have asked me to take photos demonstrating there is no line of sight between our project and the house. There isn't, so today I'm a happy snapper.
TUESDAY
I'm putting together the photos I took yesterday and relating them to the ABF's online map, when I notice the 500-metre halo is centred on a farmhouse that isn't the building I visited. Oopsy.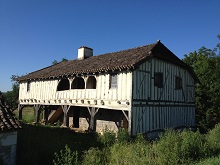 But I can't have got the wrong house. There are only three maisons à empilage in the area that I know of, they're extremely rare, and to have a fourth just next door to one of them seems unlikely to say the least. More importantly, our campsite is more than 500m from 'my' Listed house. If it's the case, the ABF have no say in our project. I draft a delicately-worded email to their departmental chief, press SEND and wait for the sky to fall in.
WEDNESDAY
An early 6am start to drive down to the villa refurbishment at Capbreton which is nearing completion. Gavin and June the owners have been flying over regularly to see the work progress and have been getting more and more excited as completion approaches. Today however they are clearly upset as the contractors haven't followed the plan and specification for the steel-and-glass stairs that are at the heart of the contemporary design they've been promised. There are sombre faces as we sit down with Christian the main contractor and M Alvaròn the metalworker who, somewhat disconcertingly, is wearing bedroom slippers. It's at times like these that you need backup in the form of detailed plans and contract conditions, and I lay them out in front of me, and draw a deep breath.
Meetings are rarely as difficult as you fear, but this one's not far off. Over the first half hour it becomes clear that M Alvaròn believes the balustrade as drawn cannot be built to comply with the local regulations. He offers Gavin and June a choice: either to accept his compromise or he will build it as drawn if they will absolve him of responsibility, in writing.
Gavin and June go outside for a couple of minutes, and are very unhappy when they come back in, feeling they've been bulldozed into a position where they have no choice but to accept something they don't want.
I cannot let this go and, to his credit, nor does M Alvaròn. We launch into a second bout of sketching and arm-waving, trying to find a way to recapture the delicacy of the original design. I'm impressed. Despite his footwear (no doubt he just has bunions) he is thoughtful and has a good eye for detail, and eventually we suggest a solution that brings the smile back to Gavin's face. I know I've said it before, but here in France the cooperative attitude of skilled tradesmen makes a real difference to the quality of building that our clients enjoy. And I didn't even have to get out my contractual big stick.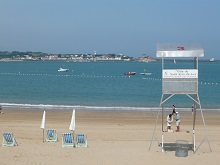 THURSDAY
I've stopped over down the coast from Capbreton at St Jean de Luz, a sheltered bay enclosed by two headlands which seem almost to touch each other, keeping out the Atlantic breakers and making a wonderful family beach. Waiting for my appointment I wander round the town, its Basque influence clear in the pimento-red paintwork and indeed in one case by external decoration made entirely of real chilli peppers.
I'm here to talk about a conversion of an old stone barn, but the first thing I notice as I step inside is a tiny chimney of wood chips climbing up the bare stone from the floor to a wooden lintel three feet up. Termites! (cue horror-film screechy music). These little wood-eating blighters are the vampires of the insect world, direct sun kills them, so they create a light-proof tunnel from one piece of wood to the next. I break through it with a pen top and out they tumble, confused and angry. I suggest to the owner he calls a pest-control company sharpish.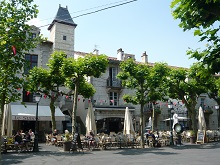 FRIDAY
Over a quick 90-minute lunch, I mention to Charlotte, our glamorous and hard-working practice manager, the incident with the ditch. "You're usually on your bicycle when you go into those things," she quips between mouthfuls of croustillant de Roquefort et de roquette, "but I'm worse off, I've been water boarded this morning."
I nod my head in sympathy. It's sheer torture. Trying to get through to the Water Board on the phone here is probably the most difficult thing a human being can undertake, short of trying to get to the head of the queue in the post office before reaching retirement age.
We go back to the office and good news! there's an email from the ABF confirming their map is wrong and assuring us they have will have no view on the campsite application. I ring up our French client, who says "Bonne nouvelle! Vous pouvez donc déposer le Permis aujourd'hui, non?" Can I submit the Permis today? Here we go again.....
Neil Vesma's architect's practice is at Villeréal near Bergerac
www.neilvesma.com
+33 6 75 84 71 76