Ju

July 2013 | Hotel Edward 1er Monpazier extension
MONDAY
It's 8am and I'm walking up the narrow back lane to the office. Paddy and Claude the office cats emerge from a neighbour's garden and we continue companionably together, two out of three of us with tails held high. I like to think I'm successfully herding cats, but in reality the lure for them is just breakfast.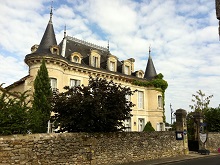 This week is completion of the extension at the Hôtel Edward 1erat Monpazier and, while everything has run (relatively) smoothly so far, there are a number of last-minute hoops to jump through. Most importantly, tomorrow we have the fire safety inspection by the Commission de Sécurité, without whose approval the hotel cannot reopen. No pressure then.
I fire up the laptop and there's an email from Arjan the owner saying he's tried to test the showers this morning and they only drip. No water pressure then.
Among the other emails telling me I've won the Nigerian lottery (again) and offering me entirely impartial stock market advice, there's one from a couple looking to buy a château in the Périgord and would I be interested in helping them do it up? They say it's a Monument Historique, a Listed Building, so it changes from a project I'd really like to help with to a project I'd really really really like to help with. I email them back suggesting we meet on site, and then settle down to preparing the paperwork for tomorrow's 10am hotel inspection.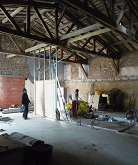 TUESDAY
10.18am sharp and everyone's here. A Fire Captain, a Trainee Fire Captain, a Planning Officer, a Gendarme and (inevitably) the Mayor. And Arjan and me. I notice Arjan's wearing a tie for the first time, which I take as a sign of nerves.
I have with me a fat dossier of supporting documentation, carefully collated and bound by Charlotte last night to look as convincing as possible. The Fire Captains, the pompiers, start looking through it, page by page, reading the artisans' attestations certifying that they have built the new rooms, restaurant and kitchen in accordance with current regulations using the materials quoted (refer to pages 23-427) following their written approved mode d'emploi (refer to pages 23,326-1,498,822). This could take all day.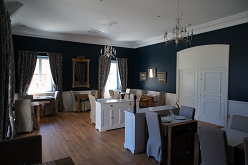 It does. Not even time for lunch. At least the plumbers show up to wind up the water pressure.
WEDNESDAY
Even with my impressive dossier the pompiers want more detail, but have been kind enough to give us 48 hours to provide it. I email the artisans giving them word-by-word guidance on their extra input, and then lock myself away so I can do something creative this week, at last.
It's a new house for Rob and his wife Shirley who live near Ribérac in the Dordogne but need to build another house with fewer steps for the benefit of Shirley's knees. They've given me the floor plans they want, including an upstairs office for Rob "so I can escape from her," he says and they both burst out laughing.
They want high ceilings for cool rooms and a steep pigeonnier roof over the office. I do my best to follow their wishes but it soon becomes apparent that the staircase won't work the way they'd hoped. I try squeezing it in one way, then another, but it always ends up with it peeping out of the lower roof. Sherlock Holmes would have called it a three-pipe problem, for me it's more of a three-espresso one.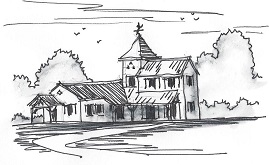 I've come to realise that a solution will eventually present itself if I ingest enough caffeine over a sufficient period of time, and eventually the answer taps me gently on the shoulder and asks if I might consider it. If I put a pigeonnier roof on the stairwell instead of the office, it all makes sense visually and from a practical building point of view. All I have to do now is explain to Rob and Shirley that their idea was a good one, but only if we add mine.
THURSDAY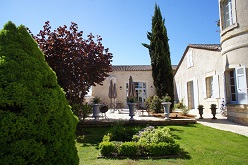 Another email from Arjan. Now the hotel showers are working they are too noisy. I'll go over later but in the meantime we've got the final list from the Fire Captain with eleven items to rectify. I schedule them out and work out which artisans need to be involved in which, then ring them individually to chase them up, email those I can't reach and then leave for the hotel, carefully breaking the speed limit all the way.
How many Frenchmen in the same bathroom does it take to sort out a noisy shower? Seven. Fortunately two of them are the artisans I haven't been able to get hold of earlier so it won't have been a completely wasted journey. Everybody has an opinion, even the carpet layer (and the bathroom floor's tiled!). I eventually fight my way to the front through the crowd of gesticulating tradesmen and evict everyone except the plumber, plasterer and tiler who will be involved in sorting it out. Calm and logic ensue, we trace the resonance in the wall to the buried pipe above the mixer tap and agree how to get it fixed, cased and tiled in the next twenty four hours. What can possibly go wrong?
FRIDAY.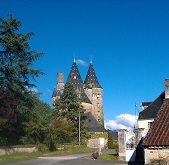 9.10am good news we have all the fire certificate detail back from the artisans, bad news the Fire Officers' meeting is at 11.30 and my computer is refusing to talk to the email server to send it all on. I tear what's left of my hair out, while Charlotte starts scanning and emailing from her machine. There's nothing else for me to do here so Charlotte packs me off to the château, saying "I'll sort it. Trust me," so I do. The château, when I get there is amazing, a fourteenth-century four-storey figure-of-eight stone tower its most arresting feature, commanding the countryside and intimidating the peasants, myself included. But I only have time for a whirlwind visit and as I drive off I'm straight onto the phone to the head of conservation in the Dordogne. No sooner have I arranged to meet on site and hung up, than Arjan is on the phone to say the hotel's Fire Certificate has been granted but can I call in as the shower problem is better, but hasn't gone away. I do a U-turn (not easy on the autoroute) and think to myself that a job as a cat-herd might conceivably be less complicated.
Neil Vesma's Architect's practice is at Villeréal, south of Bergerac.
Tel 0033 675 847 176
www.neilvesma.com