May 2013 | Cognac manoir renovation and the Villeréal garlic soup competition.
FPN ARCHITECT'S DIARY MAY 2013 MONDAY It's looking like a short but hectic week ahead. As well as a bank holiday, a jour férié, I'm going to lose two days to a training course on the new thermal regulations which came into force in January. I generally lose the will to live after ten minutes or so of these events, so I have not inflicted it on any of my co-workers. And it's in Bordeaux, my favourite city which I want to keep all to myself.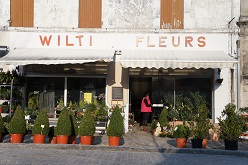 Today I'm also out of the office, traveling up to Cognac for a DLI. I'll explain later, but you can relax as it's not an invasive medical examination.
On the way I drive through the busy market town of Barbezieux and past my all-time favourite flower shop WILTI FLEURS, but this time I pull over to take a photo. A customer is coming out, followed by the lady owner who spots me and starts across the street towards the car. I think I'm going to get told off or accused of spying but no, she's very personable and says she expects I'm English as she gets a lot of us taking pictures. She gets the joke and gives me the French word fané, so my educational week gets off to a good start. She tells me it was her two great-uncles William and Thibaud who gave the Wil and the Ti to the name, and then asks if I'll take a photo of her in front of the shop and give it to her next time I pass. It's a fair deal, so we shake hands, she recrosses the street and poses in the sunshine, I shoot and we wave as I drive off. I love France.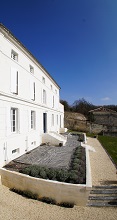 And so to Cognac and my DLI. Defects Liability Inspection since you ask. Six months after completion of the renovation of this stunning classical building and its barns, I'm here to check that everything is still working, no leaks and no cracks. The builders' contracts I had set up allowed the client to retain a small percentage of the works value, a retenue de garantie, against any defects. If all is well, this retention can now be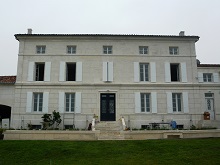 released. We're with the project manager who gets on the phone to the plumber to deal with the couple of minor issues that we identify. The plumber will be here first thing tomorrow, so it's all smiles and handshakes before we go our separate ways.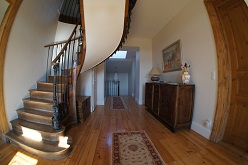 TUESDAY First day of the training course and I don't fall asleep once! It's being held at the regional HQ of the Ordre des Architectes - the French RIBA - and the lecture room is so cold you'd risk hypothermia if you didn't keep jiggling your feet. But the thing that actually keeps me awake is that it's really interesting. I had no idea. Of the three energy-hungry sectors of construction, transport and industry, it's only construction where energy-saving is politically feasible. And housing uses more than half the energy in the entire French built environment, so it's the most effective sector to target.
And the aim is ambitious: not merely to stabilise France's greenhouse gas emissions, but to cut them by 75% by the year 2050. If the developed countries don't do this, global warming risks spiralling out of control.
My immediate impression is that we'll all end up in houses that look like Michelin men, with very small windows that you're not allowed to open. I am, as Charlotte often reminds me, quite wrong. For instance, there's now a mandatory requirement that at least a sixth of the external wall area of any new house be given over to windows and doors. This means a typical three-bed house will have to have at least 25sq.m of doors and windows to let in the sunshine and avoid you having to switch on the electric light.
Afterwards, I'm so excited I have to go for an entrecôte frites to calm down. I meet my ex-clients Mark and Lon from the Médoc at the restaurant, a buzzing mahogany-and-brass bistrot that serves nothing but steak and chips and is called, unsurprisingly, L'Entrecôte. I spend quite a proportion of the evening rabbiting on about the course and they're polite enough to pretend to listen till I run out of steam.
WEDNESDAY Back to school for 9am as scheduled and, it being France, we start on the stroke of 9.23.
The day passes in a whirl of information, lists, graphs and pie-charts (Camemberts in French, there's a cultural difference for you) and I try to summarise my thoughts as I drive home. Beforehand, I had heard that the new regs were going to drive building prices up by 15% and would force clients and designers down routes that they didn't necessarily wish to follow. But the reality is that these new requirements leave us the freedom to do as we think fit provided the overall concept is responsible. You can even air-condition your home on the Côte d'Azur if you take care not to be wasteful in other ways. I've come away a convert, impressed by the maturity and long-term perspective of the system, and determined to use it to my clients' advantage.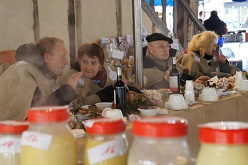 THURSDAY Today's a bank holiday, and most people will faire le pont, make a bridge to the weekend with another day off tomorrow, so the country is grinding sedately, elegantly, to a complete halt.
In the square here at Villeréal, it's the annual garlic soup competition again, with the judges dressed in their garlic sack costumes amid the steaming tureens under the centuries-old oak timbers of the market house. I take up my position at a respectful distance on the terrace of the café upwind of the supposedly health-giving vapours, and focus on energy conservation. In this case it takes the form of calmly sitting very still with a grand crème, a croissant and a newspaper.
Neil Vesma's architect's practice is at Villeréal near Bergerac
www.neilvesma.com This email address is being protected from spambots. You need JavaScript enabled to view it. Tel 0033 675 847 176