June 2013 | Barn conversions, bories and bank holidays
MONDAY
Charlotte's not saying much. It's our fortnightly review meeting and our glamorous practice manager is not her usual bubbly self. Afterwards, I ask if she's OK and offer to buy her lunch but she shakes her head. "Tooffache," she mutters "appoingmeng this affernoon." Pregnant pause. "And in English?" I joke, but her only reply is a filthy look and a poorly-aimed desk jotter as I run away.

To get properly out of range I head out of town to take photos of a barn we're converting near Eymet. I've never had the chance to meet my client who lives in the Far East, but we've managed to get along pretty well by phone, Skype, email, text and HB pencil. The barn is typical of the area with a low roof over some impressive timbering and stone walls, but computer-generated plans don't give you any idea of the scale of the space. Hence the pencil.
I've laid out the conversion with the kitchen and dining areas either side of the old cattle crêches or mangers (also from the French mangeoir, eating place). These are being retained as a feature. The en-suite bedrooms are under the eaves, with ceilings lower and cosier than the impressive central pièce à vivre.
I need the photos for the Permis de Construire application so the Planners dealing with the project don't have to leave their desks, and take views from all directions close up, and also from further away to set the building in the landscape. I wonder if it's safe to go back to the office yet?
TUESDAY
Barn conversions aren't as common as they were when I first started work out here eight years ago, most of our work is now refurbishments and individual new houses, so it's refreshing to work on one again. It used to be a foregone conclusion that conversion to a house would be granted, but now some Communes have policies restricting change to buildings specifically listed as suitable. In any event, we're OK on this one as a section of it is already a dwelling, so it's an extension rather than a change of use.
The Permis process itself has also become more bureaucratic to such an extent that I doubt if a lay person could actually make an application without professional help. Long gone are the days when some sketches on graph paper and a bottle of whiskey for the mayor were the only necessary formalities. I spend the entire morning filling in, formatting, collating, binding, signing and stamping the different forms, checklists, certificates, notices, drawings and impact statements that are now de rigueur. Charlotte's tooth is better, but she still doesn't want lunch.
WEDNESDAY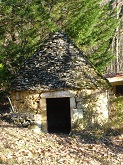 Off to the Dordogne countryside near Montignac to quote for a refurbishment of a stone house, Roy and Eileen's holiday home for the last ten years, which they want to make their permanent home. I only get lost once, and Roy talks me in on the mobile over the last few kilometres.
They freely admit to knowing nothing about building in France, so we spend an hour discussing the big picture. I explain I can either just cover the Planning stage for them if they have builders they know and trust, or if not I can take the project through to completion. Unlike the UK, builders here usually ask for a deposit up front, sometimes 30%, so you have to be sure they're reputable. Builders also need to carry an assurance décennale to cover the client against faults for ten years.
I bang on about the pitfalls till I notice Roy starting to nod off, so we get down to the detail and talk through their needs. It seems a modest kitchen extension with a bathroom over is what they're hoping for, and their budget seems reasonable. They'd like a pigeonnier tower roof, the evocative steep tiled pyramid so typical of the area, and we agree to see how much it costs, and whether its the best way to use the money they want to spend.
As I leave I notice a little circular borie nearby. These dry-stone shelters have no roof timbers, but a vaulted stone ceiling under the conical tiled roof. Too small for houses, they were originally built for shepherds and hunters, and La Borie is a frequent house name out in the countryside. Locals just call them cabanes, cabins, but une borie just sounds better and more exotic to my ears.
THURSDAY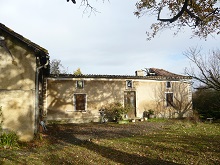 Out in the car again. When am I ever going to get any work done? This time I'm down near Marciac in the Gers, famous for its annual international jazz festival. The job is a real challenge: to rebuild a ruined farmhouse on a very tight budget. The only remaining part is the facade, and I need to talk to the Mayor to get his backing for its rebuilding. While his graph-paper-and-whiskey power of approval may no longer exist, the local Maire can certainly still stop any project he doesn't like with just a well-placed phone call.
I arrive at the Mairie on time, and my client's already there, but the secrétaire apologises profusely and says the mayor has been called away at the last moment and won't be able to see us today. Frustrating? I should say so, but we make another appointment. This is France, personal contact is how it works and if it takes longer, so be it.
FRIDAY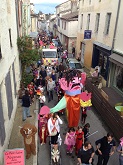 Jour Férié. Bank holiday. One of only four this month, so the phones are quiet but the street is not. There's a carnival parade passing the office, surprisingly big for Villeréal, a commune of only a thousand people, with papier mâché giants and the inevitable dad dressed up as the French cockerel. Charlotte and I watch it pass from the balcony and after we get back inside she blurts out that Antoine has dumped her.
Now I understand. Antoine is the ageing cad who I found in the boot of her car a couple of months back. A good-for-nothing, she's better off without him and I say so. I turn back to look at her just in time for the desk jotter to hit me between the eyes.
Neil Vesma's architect's practice is at Villeréal near Bergerac,
tel 0033 553 10 74 20
www.neilvesma.com
This email address is being protected from spambots. You need JavaScript enabled to view it.
Tel 0033 675 847 176