March 2013 | Périgourdine house renovation and RT 2013 Thermal Regulations
MONDAY Pierre my project manager and I are stood in a damp cellar near Cahors in the Lot. "C'est pas mal, hein? C'est du jamais-vu." I have to agree with him, it's something you don't see often.

In front of us, canted at a jaunty angle on the uneven dirt floor, is an old rusting fridge serving as a stand for a gas bottle with its rubber pipe disappearing through the ceiling to the kitchen above. The pipe not being quite long enough, the bottle is wedged up on its steel carrying handle, for all the world looking like it's going to kick the fridge over and end it all there and then. "Ca c'est pas aux normes," says Pierre, and he's right again. It doesn't comply with the regs.
TUESDAY This week is going to be mostly taken up with designs for new houses, of which we have one on site and four in various stages of planning, and checking up on sites in progress. Today I need to pop over to Shane and Carmen's Périgourdine house. Last month I was up on the scaffold as work was in progress insulating and retiling this lovely 14th-century stone building in the hills above Sarlat,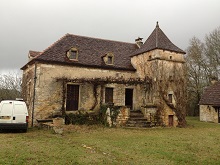 and now it's finished.
As it comes into view it brings a smile to my face. The Feltre brothers, third-generation carpenters and roofers, have done a wonderful job and the roof looks as if it hasn't been touched (but it has been, I've checked). They've reused all the original tiles that were in good condition on the two main pitches facing the garden, and conservation-grade new tiles on the third pitch which is least visible. I'm very proud for them, and take some photos in my phone and email them straight to Carmen.
WEDNESDAY Neil (no relation) and Kate have asked me to design a new house for them just south of Bergerac. They had bought a tumbledown stone farmhouse and found it was just a little too tumbledown to renovate economically, so decided to rebuild instead.
The site, not unusually for this part of the world, is a delight. Long views over sunflower fields and oak woods, a church on the horizon, poplar trees, you know the thing. They want the new house to look like the old one, but with a modern twist to it, so I've designed just that: a traditional long narrow stone house with a barn-like structure at the end, with a lot of glass in it overlooking the views across the valley. I sent them the layout last week with a pencil sketch and Neil is coming in today to give me their feedback.
LATER His arrival is a bit bizarre: "Hi Neil", "Neil! Hello! How you doing, Neil?", "Neil I'm fine, how's about yourself Neil?" "Neil, I'm good Neil."
You get the picture.
It turns out they love the layout, just a few minor tweaks, but the glazed barn area which will be their main kitchen/living space is not modern enough for them. Blimey! That's a first! I had put a tiled roof with traditional oak trusses over it, but they weren't keen. Back to the virtual drawing board...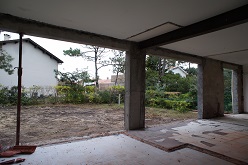 THURSDAY ...And back down to Capbreton to Gavin and June's villa refurbishment to meet the contractors. We're creating an open-plan living kitchen out of four ground-floor rooms and the house is currently looking very open-plan indeed: the maçon has opened up the back wall and removed internal partitions and the space is enormous. It feels like the entire back garden is a part of it, which is exactly what they wanted.
Today we are discussing ductwork routes for the air conditioning. Usually these run between the ceiling and the floor above, but headroom downstairs is very restricted and a large room with a low ceiling feels oppressive. We need to find another solution. On any building project, every decision taken for one element of the work impacts on the others, ripples spreading across a pond, so it's nearly two hours before we reach a consensus between the heating engineer, plasterer, electrician, maçon and joiner. The ductwork will be hidden behind a dropped ceiling over the circulation areas, with recessed lighting playing on the higher ceilings to draw the eye. Nice.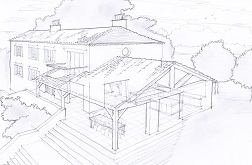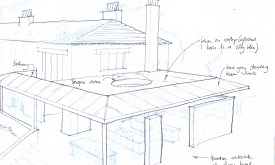 FRIDAY Back in the office and revising Neil and Kate's roof design. I amend the pencil sketch, taking the roof off and showing the room beneath and then I cogitate. Decades pass. Then I draw. A flat roof,seemingly supported only by glass, floating above the walls. A glazed dome to drop light onto the kitchen units. A lawn outside the bedroom window. I note on the drawing that the lawn is a silly idea, so they can always say no thanks, but I'm intrigued to see how far they want to take the modern theme. Later I gird my loins to deal with the new energy-saving regulations for new houses, which came into force in January. It's a good thing for the planet and our clients' energy bills, but we're in France so it's also hyper-bureaucratic. Every planning application for a new house now has to be accompanied by an architect's certificate stating the energy efficiency of the house, calculated in accordance with the new regs using government-approved software. The only glitch is that the government has not yet approved any such software and has given itself till July to get round to it.
I recall the gas bottle on the old fridge in the cellar and ask myself whether the new system is any less cobbled together than that was. Answers on a postcard please. Anyway I need to make some phone calls to the Planners to see how to deal with it. Deep breath…
Neil Vesma's architect's practice is at Villeréal near Bergerac.
www.neilvesma.com This email address is being protected from spambots. You need JavaScript enabled to view it. Tel 0033 675 847 176