December 2012 | Dordogne manoir renovations and Déclarations Préalables.
MONDAY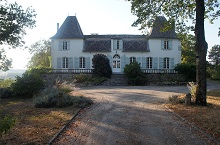 Antoine Ducheval is back. With his wit as sharp as the waxed points of his moustache and his manner silkier than his cravat, this aging playboy has turned up again dangling a very interesting château project in front of us, for a well-heeled Parisian lady of a certain age.
I know how he has gained the lady's trust. A few months ago he played fast and loose with Charlotte's heartstrings and, despite his genuine charm, I don't trust him. I'll meet his client but I'm very protective of the people I work with and Charlotte, despite being practice manager, is also a lady and needs her back watching.
TUESDAY
Janice and Ian Beaufort are very busy people. They've just bought a rather pretty 17th-century manoir 15 minutes away and have asked me to help them renovate it. They've flown over from their home and work in Beijing and are mildly panic-stricken as the more they poke around, the more problems they find.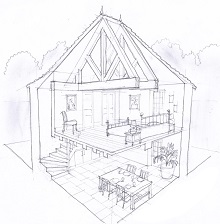 It's a splendid house down a formal tree-lined driveway, with a very elegant frontage. There's a courtyard behind, flanked by two smaller wings or ailes, and a view down to a small lake through mature trees, all framed by the rolling French countryside. It's an amazing place in an amazing setting and I'm not at all jealous.As we're not creating any new floor space, we don't need a Permis de Construire, just a Déclaration Préalable for the external changes. The Déclaration is like a building notice which we submit to the Mairie. They then pass it on to the Planners who have a month to register any objections. It's very rare for there to be a problem unless the site lies in a conservation area - and this doesn't - so it's really just a matter of getting the paperwork completed in the right format to jump through the bureaucratic hoops. We agree the final layout so I can get the process started, and then turn to the more complicated matter of getting the building work organised.
Janice, being a dynamic person, has engaged a stonemason to do some repointing and, being particular about things, has had him do nine different sample areas of pointing, none of which are quite right. The maçon has also misunderstood her directions and erroneously demolished the stone staircase leading down from the terrace. Not a good start, and Janice has admitted defeat and asked me how I would project-manage the work.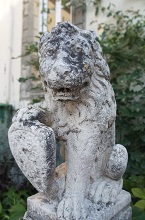 The aim of building work is to end up with what the client wants, within the limits of their budget and what is technically feasible. So the first stage is to agree the detail of Janice and Ian's needs, before the second stage of construction drawings and specifications in a form that a builder can price, known as the Dossier de Consultation des Entreprises. We've already discussed the style they like, and I've brought with me a pencil sketch of the gardien or housekeeper's flat to confirm the style and prepare them for the other file I've brought along.
This is an excel sheet showing all the decisions that need to be made. For every room and corridor (and there are 42 of them!) we need to decide on floor, wall and ceiling finishes, doors and windows, electrics, plumbing, heating and decoration. It's a daunting task, but the more these decisions are taken, the better control we have over costs. Anything that really can't be decided now is treated as a provisional item for finalising later. The Beauforts' initial looks of horror soften as we go through the building and they realise that many of the decisions are straightforward. Some however are more knotty problems and it will take a few visits to get to the stage where I can start translating their wishes into artisan-speak.
WEDNESDAY
There's a huge banging noise on the office stairs and I go to investigate. It's Charlotte, hauling the largest suitcase I've ever seen and knocking pictures off the walls as she makes her way up. "Going away for the weekend," she says before I can speak, "I know its only Wednesday, don't ask". She leaves the suitcase in the corridor. "Don't you want to put that in your office?" I offer. "No I don't" she snaps back and I suddenly remember an important email I have to send from the other end of the building.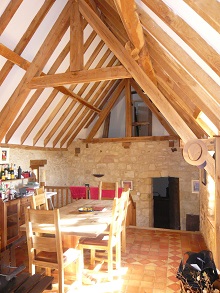 Later in the day our client Keith Bruce arrives as planned to run through the final account of his kitchen refurbishment near St Emilion. "Mind the suitcase," I say as he comes through. "Can you get round it? Sorry," "Doing a midnight flit then are you?" grins Keith, and I promise myself to stand up to Charlotte and get it out of the way when he's gone.
The final account is an essential stage of our work where we run through all the bills submitted by the artisans and reconcile them to their original quotes. As is always the case, a kitchen refit is one of the most complicated tasks in any building project. It involves pretty well every different trade from plasterers and tilers through to cabinet makers, electricians and plumbers, and to get it right they all need to be at the top of their game. If a power point or water pipe is in the wrong place it can throw out the entire programme, as can unforeseeable problems like painted cardboard behind old units instead of plaster on stone, as happened in one of my old projects. Any variations have to be agreed with the client, so we run through the invoices item by item and after a couple of calls to the carpenter and plasterer we're there. Keith writes his cheques and leaves. Now for Charlotte.
THURSDAY
"C'est votre belle-mère dans la valise ? C'est assez volumineuse!" This mother-in-law-in-the-suitcase joke is from a fine joiner with a poor sense of humour, who has come in to discuss details of the Beauforts' kitchen refit. I know what you're thinking.
FRIDAY
9am and the suitcase is still there. Charlotte's not working today but says she'll be in at 10 to pick it up, so when she arrives at 10.27 I'm ready for her and start hauling it back down the stairs. Good grief it's heavy, what does she need for a weekend away anyway? "Don't trouble yourself, I can do it," she pleads, even though the weight of a ream of A4 is usually beyond her. As I approach her car she's scrabbling in her bag to find her keys. "It's OK, you've left it unlocked," I say, and open the boot.
And there, curled up between the spare wheel and the high-visibility vest, is Antoine Ducheval. He looks at me with polite interest through cool, grey eyes for a moment before opening his mouth to speak. "Interestingly," he says, "it's not what it seems."
Neil Vesma's architect's practice is at Villeréal near Bergerac
nThis email address is being protected from spambots. You need JavaScript enabled to view it.
Tel 0033 675 847 176