February - Building a new house in Villeréal and Périgourdine re-roofing.

February 2013 | Building a new house near Villeréal and a perigourdine refurbishment near Sarlat.
MONDAY
Mrs Peters the demon baker of Villeréal has been at it again. During our three- hour meeting in their kitchen this afternoon she brings out her latest creation to tempt me with and, as Oscar Wilde said, I can resist anything except temptation. It's a mars bar cake. Warm. Moist. Toffee-y. I crumble.
Mind you I decline the crême fraiche she proffers "in case it's too dry" so I leave only two or three pounds heavier than when I arrived.
I know I'm supposed to be writing about architecture but it's the people that make it interesting. Today, we have been mostly discussing the Appel d'Offres, the tender documentation I send out to contractors for pricing. It's the point where I translate my clients' ideas into builder-speak. But the more exciting part of the afternoon has been spent doing a 3D stone jigsaw. I'm building a new house for them, but in the derelict barn on site they've found some half-buried carved stone blocks and we've been trying to work out what they are. Between Mr P's dimensioned sketches of the individual blocks and my knowledge of traditional local styles we work out he has a complete firesurround, probably dating from the late 17th or early 18th century. What it's doing in a barn I have no idea. Can we use it in the house? Will it fit? Will it look daft? Looks like the HB pencil is going to have to come out again.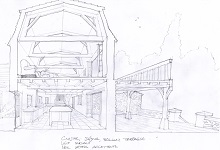 TUESDAY
All hands to the pumps at the extension we're building on the hotel at Monpazier. Today is the first formal site meeting, neuf heures pile, 9am sharp.
A French site meeting is something to behold. Maçons, plombiers, plaquistes, électriciens, menuisiers, chauffagistes, charpentiers, maîtres d'oeuvres, maître d'ouvrage, all sat round a table piled high with plans, briefcases and coffee cups. Thank goodness smoking's outlawed indoors or you wouldn't see from one end of the room to the other. And someone's always late (though never the architect, hem hem) keeping fifteen other too-busy people waiting. Surprisingly nobody ever seems upset at the delay: it's the petit quart d'heure périgourdin, people expect it.
The agenda I've prepared lasts about five minutes, and we veer off into a discussion about floor levels. If we can raise the ground floor by 15cm we can build off the existing slab, but how will this affect headroom upstairs, and what effect will this have on the disabled toilet under the new staircase? Everybody down to the painter and decorator has an opinion, and several side conversations start up on the merits of wooden stairs v concrete, whether the conservation planners will notice the windows have been raised on the facades, and if Paris St Germain are likely to beat Olympique Marseille in the footy tonight.
After three hours we have resolved a surprising number of critical issues, and all head off for lunch kindly provided at the local bistrot by the hotelier, who happens to own the bistrot too. Side conversations start up on the merits of wooden stairs v concrete, whether the conservation planners will notice the windows have been raised on the facades, and if Paris St Germain are likely to beat Olympique Marseille in the footy tonight.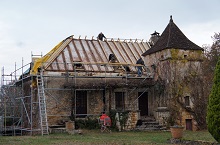 WEDNESDAY
Mobile doodling skills practice this afternoon as Charlotte drives me down for a site meeetng at Capbreton on the coast. I manage a pencil sketch of the Peters' sitting room with dug-up fireplace, and it looks fine in the large room. I experiment with exposed stone for the rest of the wall, which works well too. Stone's not cheap, so it makes sense to put it where people will tend to be looking when they're in the room. The TV will be next to the fireplace as the natural focus for the sofas. "We collect sofas," she had said on Monday with a twinkle in her eye, "we've got five now. Time we bought another one, shall we darling?". "Better get two," comes the reply, "chaises longues!"
On the way down we call in to see how the roofers are getting on at Shane and Carmen's beautiful Périgourdine refurbishment. The house dates back to the 14th century so has wonderful roof timbers but no insulation whatever beneath its small clay roof tiles. Shane and Carmen have taken the decision to insulate above the roof timbers so they remain visible from the bedroom, but this effectively means we're building an entire new roof very slightly higher than the original. This involves rebuilding the canal tile genoise under the eaves and raising the dressed stone chimney stack, not by much but it has to be done in keeping. It also means dismantling and rebuilding the carved stone dormers or chiens assis, a later addition to the roof but one of the most charming features of the house. Chiens assis, sitting dogs, are named after the stone window jambs, which they resemble. If you squint.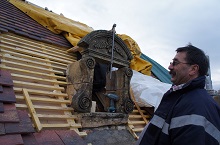 THURSDAY
It really is the people that makes a job interesting. Our project at Capbreton is a villa refurbishment for Gavin and June who are looking to retire here on the Atlantic coast, and one reason I'm here today is to ensure the fountain in the front garden gets safely dismantled. It's something Gavin and June were very clear about in design meetings, they wanted it retained "for romantic reasons" and made more visible from the house. I was always too shy to ask what "romantic" meant but I'm jolly well going to make sure nothing goes wrong.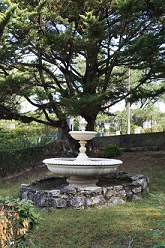 FRIDAY
I email the sittingroom pencil sketch to the Peters, even though they're only just five minutes up the road. It's not that I'm avoiding them, I really like them. My problem is I can't just say no to cake. Neil Vesma's architect's practice is at Villeréal near Bergerac
This email address is being protected from spambots. You need JavaScript enabled to view it. Tel 0033 675 847 176