November 2011 | Perplexed planners and exclamation-mark blizzards
Monday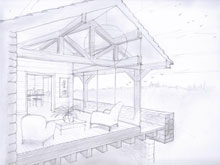 God moves in mysterious ways, as does the French bureaucratic system.
I'm designing a new house just south of the Loire, my client Dougal having been introduced to me by his neighbours. Last month I had met the planners to talk through the specific policies relating to the site, and they had insisted the new house be built on the boundary between the two plots. Neither Dougal nor his neighbours were happy about this. Dougal had emailed me in a blizzard of punctuation marks "Why??? I may as well be in their front garden!!!!", to which I had replied, unsatisfactorily but truthfully, "Because they are employed to protect the traditional form of the village, because they think they're right, and because if we don't they'll refuse the Permis de Construire."
So the application went in with Dougal's house hard against the neighbours' fence, but in today's post was a letter from another section of the Planning department saying something entirely different. Now they want the house at least half its height away from any boundary, so will I please move it more into the middle of its own plot. This is brilliant, and will please everyone concerned, but I don't understand why the Planners don't read their own policies. And it's a little disturbing: this time it worked in our favour, but next time the opposite might be the case.
Tuesday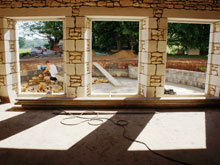 More good news! I have been appointed by a Portuguese shipping broker and his Malaysian wife living in Shanghai to extend their holiday home in the northern Dordogne. Julio's a very personable man in a high-pressure job, and he tells me his last holiday here just revitalized him, it was so different from his big-city existence.
When I asked him what it was he'd noticed in particular, he said that you can park almost anywhere without having to pay and you don't have to spend a fortune to get a good bottle of wine. What had really amazed him though, was how the relaxed pace of life here crept up on him without him noticing it, so when he went back to work the sheer frenetic atmosphere at work had made him question his true priorities.
Wednesday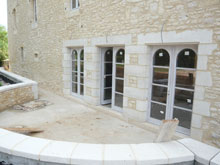 I do a pencil sketch of Julio's hayloft conversion, as his enthusiasm for cracking on with the project is entirely infectious. It's a beautiful hilltop farmhouse near Ribérac with an open-fronted stone and oak barn attached. This overlooks the best views (though they're all pretty jolly good) so putting plenty of glass into the front is not a difficult suggestion to make, but we can do better than that. If we recess the glazing by a metre or so, we shelter the rooms from the heat of the sun, we create a balcony, and we preserve the appearance of the old oak posts and beams. We can also use a contemporary style for the construction we're inserting, if this works for Julio. I scan and email it to him. What time is it in Shanghai now?
Thursday
No reply from Julio yet, so I curb my enthusiasm and get down to the serious business of organising the file on the refurbishment that Pierre is running for me near Sarlat. Over the phone he tells me that the French windows that have just gone in to the dining room are 'wonnerful, superbe' in his rich local accent and we agree we should meet on site tomorrow. I focus on the monthly project financial update, ensuring the contractors' invoices add up and don't include for anything unfinished. I need to concentrate in a locked darkened room with cold wet towels for my fevered brow, and ask not to be interrupted, so Charlotte's repeated impressions of a demented tea-lady do not go down well. She may be practice manager but that doesn't give her the right to wind me up quite so much.
Friday
The decorator proposed by the client at Sarlat (who we have not used before) was very competitive, so to get my own back on Charlotte I make her do the background checks on his finances and insurances, while I ring to agree with him which of his previous jobs I can visit. He's a working man so it will have to be this evening. A late finish I suspect.
I call out to the site after lunch (a brief 90-minute affair) to see the French windows, and in the flesh they do look wonderful and as superb as Pierre said, and the quality of light they let into the room is breathtaking when I think back to the gloomy cavern the space used to be. There's something elegant about French windows wherever they are, and I always imagine them with white muslin curtains gently billowing on a warm southerly breeze…
Sorry, where was I?
Back at the office, Julio has emailed to say that he likes the concept of my pencil sketch, but he and his wife do not want a contemporary style, especially if it's going to exceed the budget. I have a word with my ego and explain to it that we're here to satisfy our clients not ourselves. Time to head off to check the decorator's references.
Saturday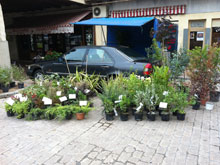 In my hurry to get back last night I forgot that today is market day and I parked the car in the square. Fortunately I'm the only one in the office this morning so nobody gets to smirk at my car totally hemmed in by attractively-priced shrubs and quality saplings. When I eventually find the stallholder, she scolds me for invading her space and also for interrupting her petit dejeuner at the bar.
I had thought being told off by an excessively grumpy fag-wielding lady of a certain age with no dress sense (excuse my French) was something I need never go through again after my great aunt Edna passed over, but apparently this is not the case. The person concerned obviously has a great future ahead of her, training traffic wardens.
Neil Vesma's Architect's practice is at Villeréal near Bergerac. Email This email address is being protected from spambots. You need JavaScript enabled to view it. or tel 0033 675 847 176, or visit his website www.neilvesma.com