September 2011 | Invisible houses, compliant banks and Grace Kelly
Monday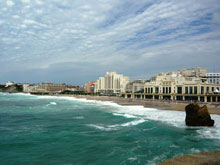 A bizarre start to the working week. The French bank funding a new house we're designing phone up to say that they've inspected it and will release the money as soon as the external rendering on the gable has been finished.
This intrigues me as we haven't started on site yet, let alone built the walls, let alone rendered them. I patiently explain this, but the gentleman informs me he has been on site and there can be no mistake. I swear I am not making this up. I'm not going to tell you which bank because you'll all want one.
Tuesday
Our editor-in-chief rings first thing to say this month's edition has a money-saving theme to it and can I include something along those lines in my column. I mention it to practice manager Charlotte, saying that this is pretty much our whole job. Ten minutes later, I am almost at the point where I give her the It's-Not-About-Spending-As-Much-Of-Our-Client's-Cash-As-Possible-It's-About-Getting-Them-Value-For-Money speech when she peers at my face and says "Is that a nose hair?". By the time I've recovered my wits she's on the phone to the conservation planners, the ABF, and can't be disturbed.
I do however have to do a quote for a young couple who have bought a barn to convert in the Médoc north of Bordeaux. It's a lovely spot and a beautiful barn but it needs a lot of work, and as soon as I'd asked them their budget I knew they risked getting into serious trouble. They had taken advice from a DIY builder who obviously needed the work and had seriously understated the cost of renovation which, square metre for square metre, is the same price as building new from scratch.
So I had to give them the news: that they don't have enough capital to do what they'd hoped but, if we plan the conversion properly, they have got enough to create a delightful core for their home that can, as funds allow, expand into something really rather special. I don't yet know if they will appoint me, but being honest and open is the essential foundation of a relationship of trust, and trust is the essential foundation of a successful building project.
Later, Pierre my project manager rings to remind me about tomorrow's 8am site meeting at Jack and Serena's new house, for which I need to prepare a staircase drawing. Midnight oil time again…
Wednesday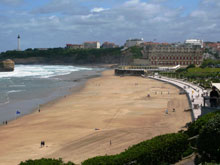 Designing the staircase turns out to be good fun, challenging and demoralising by turns. A while back I was designing one in stone, solid and imposing for the manor house refurbishment, but this one is for this contemporary house, and needs to look weightless. I want it to feel graceful, inviting and effortless to climb. And I want Serena to feel like Grace Kelly when she descends.
The final design is a little curving number in brushed steel and beech, which we've been talking through at the meeting with the local metalworker who will be building it. As so often happens, his input adds that little extra which makes working here so rewarding.
The fact is we're trying to make the whole building feel effortless. It's equally true that doing this involves a lot of frantic paddling below the waterline and we spend a long time resolving a problem where a roller shutter casing and a steel portal frame want to occupy the same space. Pierre comes up with the best idea to sort it out, involving shortening the frame and adding a concrete tie beam at first floor level. However creative and insightful I might like to think I am (head swells even more) it's essential to work with people whose role is to pay attention to the details and actually bring the concepts to fruition. Thanks, Pierre.
Thursday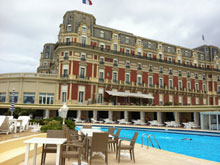 Charlotte's remorseless pestering of ABF has paid off and I have a meeting with them to discuss a project for refurbishing a house by the Dordogne, in the conservation area around the castle at Beynac-et-Cazenac. It's a beautiful village hanging onto the cliff over the river and under the castle, very photogenic with its honey-coloured stone and steep roofs. It appeared on the front cover of FPN back in March.
The house itself is in the shadow of the castle and was self-designed and self-built in the local stone about twenty years ago by the owners at the time. Their internal layout was idiosyncratic to put it mildly and my clients, urbane Londoners of American descent, have asked me to put it right for them.
Even in a conservation area you can do what you like to the inside of the building, but outside it's a different matter and the site is so sensitive I want to get the ABF's opinion before we even put in the Planning application, hence Charlotte's fine work in getting me in through their notoriously barricaded doors. The meeting goes pretty well, I'd expected them to resist the changes to the roof we want to make, but the Architect I speak to admits it's already peppered with rooflights and suggests a way of rationalising the openings. I have to admit it's an elegant (though slightly more expensive) solution for my clients, and we shake hands and I leave.
Anyway, enough of all that, it's time to get into the car and head for...
Friday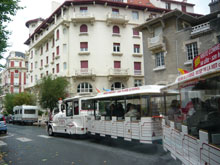 Biarritz again hooray! I have an hour to kill before my meeting and the hotel receptionist recommends the petit train touristique as a good way of getting a quick understanding of the town and its history. Normally you wouldn't get me within a bargepole's throw of these monstrosities but, as I exit the lobby, there's an empty one stopped by the sea wall. I get on and pull out some euros to pay.
Before anyone comes round for my money, an enormous air-conditioned coach screeches to a halt alongside and disgorges a horde of noisy but jovial French grannies and grandpas who all climb aboard the train, with and without assistance.
The train departs. The informative commentary over the speakers about the town starts with the spectacular palace on the Grand Plage, built in an entirely justifiable fit of pique by Napoleon III's wife Eugenie to get away from him after another one of his dalliances. The commentary then continues with a traditional Basque song, to which my co-voyageurs all sing along and clap. I am presented with a dilemma: do I clap and mime to the tunes, thereby losing all self-respect, or do I stay silent and expose myself as an interloper and ticketless joyrider of tourist trains? I start clapping and grinning like a maniac.
Neil Vesma's Architect's practice is at Villeréal near Bergerac. Email This email address is being protected from spambots. You need JavaScript enabled to view it. or tel 0033 675 847 176, or visit his website www.neilvesma.com