June 2011 | An architect's life can be a bit of a boar
Monday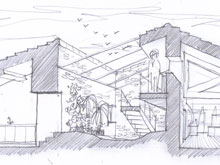 "Overstimulation," my doctor tells me as she guides me out of her office lighter of pocket but heavier of heart, "is often a cause of insomnia in men of your age. Try to avoid it at bedtime". She tries to reassure me that it will sort itself out, "Everything changes".
An hour later I'm saying the same thing (and it's equally poorly received) to Charlotte my office manager whose house on the charmingly-named rue de l'Eglise now finds itself on rue Pissebaque following a streetname-changing motion approved at the latest meeting of the Conseil Municipal. Serves her right for not getting voted onto the Council, but I'm not quite brave enough to say this. I'm sure Monsieur Pissebaque, whoever he may have been, deserved this honour and Charlotte is being merely churlish in not welcoming the change. I don't say that to her either.
To restore my self-esteem I do some work for a change, drafting alterations to a house and barn in the Gers. I gaily demolish the roof over an internal room, converting it into a glazed courtyard and allowing light into the centre of this rather large building. To restore my youthful vigour I forego lunch (a crime against French law) and do a pencil sketch for the clients instead.
Tuesday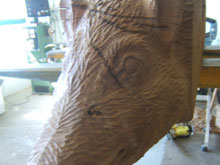 May is full of bank holidays here, you can't contact anyone and may as well shut up shop till everyone else comes back. Today being a case in point, nobody is on site at our big manor house restoration so I check out the tourist office for bank holiday attractions and find, amongst the bingo and jumble sales, a fête du Tourin, the local garlic soup. I imagine hundreds of ruddy-faced farmers' wives ladling out bowlfuls of reeking potage to a halitosis-heavy public of unsuspecting tourists and other ruddy-faced farmers' wives and so decide to give it a miss.
Adrien the carpenter comes to the rescue by sending through a photo of one of the boar's heads that is going to support the new floor in the manor house. Carved from the living oak, it has the bristling menace of the real thing and is much scarier than my drawing. When I first tried to draw a boar's head (not something I've ever been asked to do in my professional life) it looked more like a rhino than a boar, until Pierre pointed out to me that the tusk comes out of the lower jaw rather than the nose. Glad the sculptor didn't make the same mistake.
Wednesday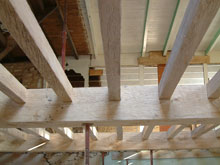 Another day, another manor house. The good news is it's up in the Charente, a couple of hours away and it's a boiling hot blue-sky day. The bad news is that my air conditioning, my clim, isn't working. I have to revert to what Mickael calls my clim espagnole, or winding the windows down. I dare not use this phrase myself until I check later with a friendly restaurateur whether it might be a racist put-down of the fine country that is Spain, Mickael being half Portuguese. Happily he informs me it's not. I drive off after lunch singing like a 'vache espagnole' ie loudly but not at all well.
Oh yes sorry I was talking about the manor house. Simone and Alan have bought it and wish to open it up to the splendid rear gardens. We talk it through and with the judicious use of heavy plant and dynamite to remove some reinforced concrete wine vats (French builders are no strangers to the cement bag) it should be quite straightforward. Simone then happens to mention they want to convert a wing to a guest apartment, a barn to two granny suites, and a hay loft to a three-bed flat. And they want to take the top off one of the hills they own. I leave reeling slightly at the scope and scale of what they're proposing and relishing the opportunity to work on something so rewarding.
Thursday
I get a call from the purchaser of a house for which I did a planning application for some alterations three years ago, during which he tells me he's found dealing with French bureaucracy an "absolute nightmare". He is of course wrong. It's worse than that.
He explains he wants move the front door from the approved location to further along the same wall, and wants to check if he needs to notify the Mairie. I am tempted to answer as a human being and say "Just do it. Nobody will notice and, even if they do, nobody will care". This is generally how the French deal with their own bureaucracy, by the way.
But my caller wants a professional response, and my insurers want me to give him one, so I tell him he needs to make an application for a Permis de Construire Modificatif, which is less onerous than an entirely fresh application, but still has to be done in the right format in four copies or possibly nine, depending on the changes. The authorities have three months to decide, and if they miss the deadline he can make application for a tacit approval by default.
Sadly before he can do this, he has to get the current Permis changed into his name. Unlike the UK where a planning permission attaches to the property involved (logical), here it attaches to the applicant (not so logical and therefore first choice). The change of name has to be done by a formal demande de transfert d'un permis deliver en cours de validité which the authorities have three months to decide, despite having the written agreement of both parties in the application documentation. This is then only valid if not contested by third parties within two months, who must notify the applicant within fourteen days of their submission to the tribunal administratif.
Friday
Sorry I appear to have fallen asleep.
Neil Vesma's Architect's practice is at Villeréal near Bergerac. Email This email address is being protected from spambots. You need JavaScript enabled to view it. or tel 0033 675 847 176, or visit his website www.neilvesma.com