May 2011 | The budget-busting brouhaha of a built-in Brad Pitt
Monday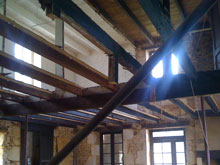 Big mistake. Stayed over with my brother last night and stepped onto the bathroom scales, something I've not done for two years. It would appear that a diet of brilliant creativity and two-hour lunches is not necessarily good for the waistline.
My bike, which has looked very sporty propped up against the wall in the front hall for eighteen months, is going to have to lose its cobwebs. All donations to the Poor Neil There There Ignore It and It'll Go Away fund gratefully accepted.
At the Blythes' manor house restoration project this morning. I considered cycling there, but arriving ninety minutes late, out of breath and sweating like the proverbial would undermine my natural air of authority. I drive instead, as usual. Aren't automatics great? Saves all the effort of changing gear.
This, our most challenging project, is continuing into its third month relatively smoothly after the initial debacle over the severed water pipes and electricity cables (don't ask). The joiner has brought samples of the two window options, one authentic traditional and the other just traditional. Sadly, the authentic traditional sample has been spray-painted with white plastic on the outside (GUARANTEED TEN YEARS!) and looks cheap and nasty so Mr Blythe chooses the other one, which happens to be cheaper.
We then go for lunch but limit ourselves to two courses and so feel virtuous.
Tuesday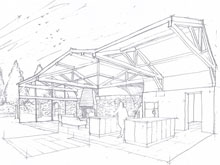 Feel the need for some peace today so I retreat into my office saying I'm not to be disturbed. Am disturbed two minutes later by Charlotte looking for the stapler. I invite her to look for it elsewhere, and then find it under my diary.
Time to start designing Château Broseley. Not a château at all but my pet name for the house I'm doing for my friends Rab and Julia. She is a therapist and he is in marketing, but more interestingly he writes and paints and still plays the drums forty years on from his heyday on the college circuit, so they want a house which is both calm and inspirational. They also need a house with excellent sound insulation.
The plot is at the edge of a village, without long vistas but with a pretty view of the village rooftops. They are looking for a large, light-filled open plan kitchen/living space, and Julia has especially asked for Brad Pitt to be incorporated into the bedroom. I have however already explained that this last requirement may result in the project going over budget.
I start with a wall meandering across the site. Walls separate public from private, noisy from quiet, shade from sun and shelter from wind. So this wall will start outside the house to give the back garden privacy from the road, will run through the house to muffle the drumkit from non-music-lovers, and will then run outside again, curling around their terrace and pool to give shelter and shade.
Get disturbed for the rest of the day.
Wednesday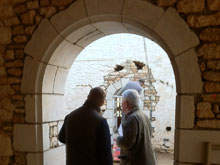 Another wall today, this time back at the Blythes' manor house. We are moving the front door to the other side of the tower and the maçon doing the stonework says there's a problem.
I get to site and find Pierre my project manager already there. So that's what he looks like! It's been so long since our paths crossed I'd started to doubt his existence. He explains thus: "le mur n'est pas d'aplomb" and he's right, the wall isn't vertical. Over the centuries it has settled and bulged, and now the top of the opening is 20cm outside the sill.
The intention had been to carefully remove the dressed stones from around the original doorway and rebuild them in the new location, and there they are laid out on the ground, clearly numbered in a delicate shade of fluorescent pink spray paint. But we can't rebuild them leaning outwards as the door would then also be on a tilt and would slam shut like something off the Titanic, post-iceberg. There's really only one solution, to rebuild the wall around the doorway to smooth out the difference between the vertical jamb stones and the listing wall, and I spend a solid ten minutes with the maçon agreeing exactly how it's to be done. I look round to confirm it with Pierre but find that, like the phantom he almost certainly is, he has vanished whence he came.
Thursday
Back designing the Broseleys' and it is starting to come together nicely. They've given me a good brief without being over-prescriptive, and have made it clear that they are looking for plenty of light inside, optimism and loads of wallspace for Rab's paintings. I turn an internal lobby into a naturally-lit gallery for some of his more intimate works, and decide to make their private bathroom circular to see what reaction it provokes. We are, after all, at the concept stage where it's good to throw ideas around, and I'm realistic enough to know that not everything I suggest is going to be accepted.
I have structured the house so it can be built using traditional local materials and methods. This makes it cheaper and also gives it the appearance of belonging: important in its unspoilt village setting. And I plant trees. We will choose species that don't undermine the foundations, that give a dappled shade to keep the house and its occupants cool, with leaves that rustle in the breeze.
Friday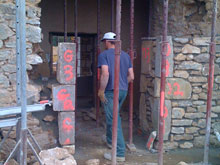 Get an email from Julia Broseley saying she's gone off Brad and could she have whatsisname off The King's Speech instead and maybe he'd be cheaper and would that help the budget? That's another thing about walls, people drive you up them. But at least you can bang your head against a brick one.
Neil Vesma's Architect's practice is at Villeréal near Bergerac. Email This email address is being protected from spambots. You need JavaScript enabled to view it. or tel 0033 675 847 176, or visit his website www.neilvesma.com