May 2012 | The acorn of inspiration for a green oak house
Monday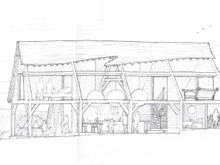 Another Permis de Construire, a planning application to fill out this morning and I'm already tearing my hair out, or rather what's left of it. The rules changed in March to simplify the process, but as usual the opposite has happened.
A Permis form here doesn't just tell the administration what you want to do and where you want to do it, it also gives them details about the property so they can tax it. This includes the taxable floor area, and they have changed the way of calculating it. The old method, the SHON or surface hors oeuvre nette, has been discontinued as it was felt to be discouraging housebuilders from properly insulating the external walls. It was calculated by taking the gross floor area of the building including covered terraces and carports but excluding stairwells and roof overhangs and then deducting garages, covered terraces and rooms used for agricultural...
Tuesday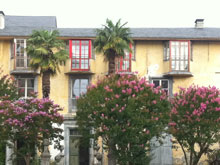 ...purposes, and then deducting 10% of the result and finally deducting a further 5sq.m per dwelling. The new system isn't frankly much more straightforward. Don't ask me to explain it, there's no point you getting confused and depressed as well.
This particular application has had to be done to a strict time limit, as it's a condition suspensive on the purchase of the site. The seller has agreed that the buyer can pull out of the purchase if he can't get his Permis, and in return the buyer has agreed to submit the application no later than this week. To ensure we are on time I'm driving down to the Mairie at Tarbes today to hand the application in personally, and to receive their official receipt. I rather like the city and it's a sunny day, so I take time out for a beer in the square, teenagers posing on their scooters, children playing in the fountain.
Wednesday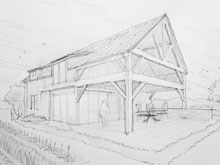 To celebrate the fact that I haven't fallen off my bike this month (so far), Charlotte my practice manager has pinned up a calendar on which she sticks a gold star every day I stay upright, referring to me as tending to be 'motionally unstable'. This is a bit harsh as I'm not totally certain she's removed the stabilisers from her own bike yet, being too scared to ask.
Back in the world of work, I spend the day doing a sketch layout for a green oak house in the Gers. I visited the site for the first time a couple of months ago with my clients Pete and Maya, a young professional couple currently living in a trendy Docklands warehouse conversion. They tell me they like their London flat very much, with its high ceilings and light flooding in, and want something with a similar non-domestic style. They also need a house with an affordable core which they can extend over the years as their lifestyle changes. The plot is elevated, on the edge of a village, in a voluptuously rolling landscape. If you can imagine the young Brigitte Bardot laid down and smothered in crème brulée you're not far off the seductive folds of the surrounding countryside. But I digress.
I had showed them a pencil sketch I'd done for another new house which had never been built, and they'd both said "Yes! That's perfect!". But now I have to translate that theme into something which will suit their short-term needs as a holiday home, while retaining the flexibility to become a larger, permanent home for them in the future. As ever, budget comes into it, as does the climate. They're keen on a large open-plan living kitchen with plenty of glazing onto a terrace facing the views. But the views are to the south, so letting light into the house will also let in heat during the summer. We can't use trees to shade the house as they would obscure the view, so I'm proposing a system of sliding full-height shutters to deflect the sun at its worst. These fit in well with the barn-like style they want to achieve. If the shutters are well insulated they will also take the chill off in winter. Like the UK, we had a very cold February here, down to -18°C, so the house needs to perform really well at all times. Pete and Maya should be leaving Stansted as I am writing these words, so we'll see tomorrow how close I am to what they want.
Thursday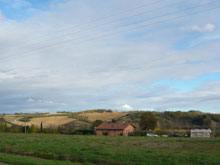 Charlotte offers coffee as Pete and Maya seat themselves at the meeting table. Paddy the office cat wanders in off the balcony to see what's going on and then wanders back out again as the visitors have not brought any catfood with them.
It's a real pleasure being able to talk through somebody's dreams and aspirations, and a privilege to be trusted to bring them to fruition. Design meetings like this tend to be cheerful affairs, but I'm always careful not to let the bonhomie get in the way of properly understanding if I'm on the right track, and when I've run through the detail of my design I sense there's a slight edge. I take a deep breath and say "I haven't quite got it right, have I?"
There's a slight pause while they look at each other, and then they take a deep breath and say "No." From that point on the meeting gets honest, it gets useful, it gets productive, it gets intense. Out go the computer drawings, we are working with graph paper and pencils and erasers to start again from scratch. It gets noisy, there's laughter and more coffee. Charlotte joins in. Paddy joins in but is repeatedly evicted. After two hours it's clear that we've reached a consensus and there's a glow of satisfaction around the table. There are times when a design can be done over the internet, and there are times when you need to thrash things out face to face. This was one of them.
Friday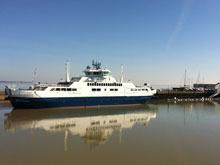 A long day in the car to finish the week, swinging through Bordeaux to a renovation in the Médoc, then by ferry across the Gironde estuary to Royan and the Cognac manor house refurbishment before heading home. Eight hours traveling and four hours on site, but even so I still feel privileged to work in such a beautiful part of the world. Rural France remains a patchwork of tight-knit communities with little social mobility and intense loyalty to their immediate surroundings, so different from the UK I used to inhabit. I'm in a reflective mood. With an unbroken blue sky and a flat calm on the sea, the 8km crossing of the estuary brings back memories of my first trip across the Dover straits as a young man, of discovering somewhere exotic and welcoming, a hearth and a home I never knew I had.
Neil Vesma's Architect's practice is at Villeréal near Bergerac. Email This email address is being protected from spambots. You need JavaScript enabled to view it. or tel 0033 675 847 176, or visit his website www.neilvesma.com