March 2012 | Travels with a donkey ... well, a pursuit of two donkeys
Monday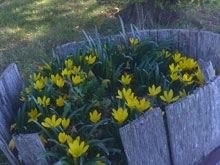 Spring is on its way. The days are drawing out and it's time to spruce up the office decor before flinging open the French doors to let in the returning warmth. My artist friend Yves is helping out, and tells me how he had a slight problem donkey-sitting last week.
He was looking after the two beasts (his word, not mine) for friends when they escaped through a poorly-maintained fence. The donkeys then opted to tour the nearby town centre of Monpazier. Having no previous experience in recapturing large errant quadrupeds, he apparently spent two hours playing tag with them around the square, past the Mairie and through several prize-winning rose gardens before someone took pity on him and gave him a bunch of carottes.
Tuesday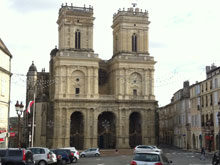 Down to the Gers today to the delightful city of Auch, the historic capital of Gascony west of Toulouse, to talk to new contractors hoping to go on our tender list. I take a quick walk around the cathedral of Sainte-Marie which dominates the town and surrounding countryside. It took over two hundred years to build, and you can insert your own aren't-French-builders-slow joke here…
We have three jobs in the area, two renovations and a new green-oak house, and we need reliable local craftsmen with a feel for le style Anglais, by which I mean a sensitivity to traditional construction and the skills to preserve historic character. I also visit the site of the new house for the first time, and it's entirely different from how I'd imagined it from the photos. It sits on a small rise at the edge of a village, so it has rural views and privacy while still only being two minutes away from the boulangerie. We all know how important that is. I finish off the day doing specification notes for one of the renovations, three hours alone in a semi-derelict country house that looks like Miss Havisham might descend the stairs at any minute. Decide not to camp at the house overnight and find a hotel with heating. And windows that shut. And a bed. And a bar.
Wednesday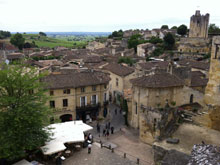 On my way back I call in to see the Morgans, a young couple who bought an 11-hectare vineyard between St Emilion and Bordeaux two years ago. They are mortified when their dog jumps into my lap with muddy paws even before I've got out of the car, but I don't really mind. It'll brush off.
Brian and Eileen want to convert a barn amongst the vines to a gîte, but have had their Certificat d'Urbanisme, their outline planning application, refused. They tell me the Maire told them he would support it, so they are dismayed and confused that it has been disallowed.
I look over the refusal notice and it soon becomes clear to me that there is a way through. The barn is out in the vines and is classified as being on agricultural land. As in the UK, you can't build a house in the open countryside unless it's related to an agricultural activity, and the Morgans didn't specify that the conversion was for wine tourism.
We agree that I should put in a new application linking the work to their vineyard business, and they offer me a glass of their wine to taste. It being a little early in the morning, I politely decline. This is the right answer as they give me a whole bottle to take away instead. They are registering to go organic, and tell me they should get the approval in time for their 2013 vintage. It's a dream set-up they have, with their farmhouse, barns, dogs and cats all on a little headland protected by mature oaks, and the rolling corduroy landscape of the vines beneath. This morning there was a gentle mist evaporating under the blue sky as I arrived. Brian assures me it's not always so idyllic: the vines are pruned in January and February and last year it took him five weeks in rain, wind and hail. This year he hired in contractors, who did it all in 48 hours.
Thursday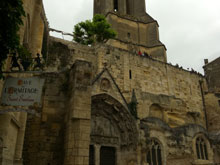 A day doing constructive work in the office, for once. I have been working up my notes on the country house near Auch, finalising the working drawings, specification, and contractual terms and conditions. The start of a project is great fun for myself and the clients as our imaginations can run loose and build castles in the air, but transforming that vision into an affordable reality takes days of detailed discussions and specification work. Everything needs to be decided in good time, so the builders can price it to the nearest centime and then order the materials and fit them at the correct time in the overall work programme. But most of my clients are lay people who can't be sure what kitchen tiling is going to look right until the kitchen itself has been floored, plastered and pointed, so inevitably the decision-making process runs through into the build period itself. We resolve this problem by introducing provisional sums into the specification, for instance allowing €30 per square metre for the supply of wall tiling. When the client eventually makes their choice, say at €35/m², the difference is added to the contractor's bill. Equally if the client chooses a cheaper tile, the difference is deducted.
The specification process is mentally demanding as well as time-consuming, as every detail has to appear on the documents sent out to the contractors, but if it's done right it means that the client has complete assurance that the work he wants doing will cost him exactly so much. That's the theory, and in practice I find it works out pretty close despite the inevitable gremlins that arise on every site. With the right choice of contractors, extra costs can often be negotiated away as it's in everybody's interests that the client be happy at the end of the job.
Friday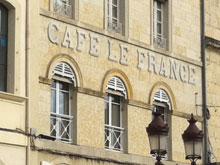 Tried the Morgans' wine last night. Very nice. I suspect their 2013 Organic Bordeaux will be a winner.
Neil Vesma's Architect's practice is at Villeréal near Bergerac. Email This email address is being protected from spambots. You need JavaScript enabled to view it. or tel 0033 675 847 176, or visit his website www.neilvesma.com