February 2012 | Raising a glass to a job well done
Monday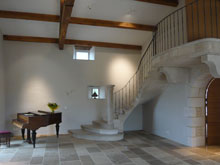 A crisp early morning start to watch the panneaux sandwichs being lifted onto Jack and Serena's new house near Villeréal.
We're using this system more and more often, pre-insulated roof panels with incorporated rafters and a finished ceiling, so a complete roof can be watertight in little more than a day. And it works equally well for a new build or a renovation.
I ask Jean-Claude the roofer whether his men perched on the eaves are wearing tethers to stop them being knocked to the ground and he says "Oui, bien sûr, c'est obligatoire", but they must be very thin because I can't see them.
Tuesday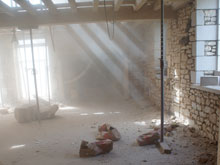 You may recall that Jack and Serena's staircase is going to be a flowing curve of minimalist steel and oak. It's also going to be over budget unless something gives. I need to speak to Sylvain the young metalworker who has priced it, otherwise we will have to have a much less stylish straight flight, which neither I nor Jack nor Serena want. I get on the phone.
In the end, it was one good thing to come out of the global slump. I explained that my clients only had so much to spend, that I didn't want to have to ask someone else to price it, that I'd like to develop a long-term business relationship with him, and couldn't he trim his price, just this once? He could. And did. Too much.
I told him to raise the figure a little, because I find if you push people too far they make mistakes that they then can't afford to rectify. Better to have a happy artisan at an affordable price than a bad atmosphere, mistrust and aggravation.
Wednesday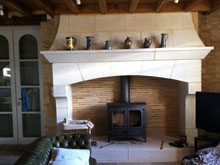 Lunch for 36 at the restaurant near the Lot-et-Garonne manor house. The renovation is complete, the house is looking beautiful and Mr and Mrs Blythe the clients are happy. They have invited everyone who has worked on the project, from Frédo our surveyor who first measured up the building two years ago, to Didier the painter who added the last touch of dusky blue to the landing wall last night. We start off with a vin d'honneur, a glass of mulled wine at the house to celebrate the completion and give people a chance to look round, "but not in the chests of drawers," Mr B explains.
We then repair to the restaurant for a light five-course lunch of garlic soup, assorted charcuterie, boeuf bourguignon, cheeses and crème caramel. Mr B makes a speech, bravely entirely in French as most of the artisans don't have a word of English, and I propose a vote of thanks, slightly hampered by having brought my shopping list rather than my speech notes. Everyone wanders off around 5pm with a commemorative bottle of local wine, knowing that tomorrow morning we'll all be back to reality.
Thursday
For me today reality isn't that tough. Once I've sorted out Charlotte and the month's invoicing, I have to focus on a pencil sketch to show how the stairs work for Alan and Simone's new kitchen at their house in the Charente. Computer drawings are good for making sure that it all fits, but a client needs to be able to see something hand-drawn to get the feel for a space.
The house itself is rather grand but does not lend itself to the sort of inside-outside living that we Anglos enjoy so much here. So, we are converting a lean-to barn between the house and the lawn into a spacious living kitchen with a dining terrace outside. I'm taking advantage of this to bring more light into the centre of the building by creating a glazed lantern over the new stairwell. This has the added advantage of brightening up the somewhat gloomy entrance hall and drawing the eye through to the sitting room beyond. For me, good architecture is like a coconut. You can eat the flesh, drink the milk, make a doormat out of the husk and make clippy-clippy noises with the shells. It works on all sorts of levels.
Friday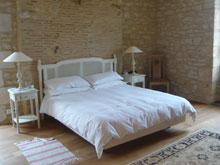 In the post today, our neighbour's bill for cleaning up his shop after the debacle of our festive Christmas window display. I should explain our shop window is off Didier the photographer's shop downstairs, through a little trap door, and usually features stylish and eye-catching photos of recent projects. In December however we dress it up, like all the other shop windows in the street. You know, fake snow and tinsel and stuff.
This year I was looking at one of those snowstorm paperweights and it crossed my mind that we could do something similar in the window. Other people had miniature train sets trundling through snow and caroling polar bears, why not a gentle snowfall with Père Noël skiing down a rooftop?
So I set it up. I found an old bean bag filled with (admittedly small) polystyrene beads for snow, and hid a couple of office fans behind painted snowdrifts to move the snow about. I carefully shut the door behind me and went outside to see how it looked. Perfect! Now to plug in the fans.
With hindsight, I should have set the fans at their slowest setting rather than their fastest. At first it was OK, quite Christmassy, but as the fans gathered pace so did the snowstorm or (as it should properly be called) the blizzard. The first thing to go was the chimney off the roof, swiftly followed by some festive penguins that I'd knocked up after watching David Attenborough, followed by Père Noël's beard. And his clothes.
This is where, in my panic, I made my second mistake. Rather than unplugging the fans I opened the trap door to turn them down. Immediately I was enveloped in the sort of howling banshee blizzard usually only seen in Hollywood blockbusters, and a piece of polystyrene snow hit me in the eyeball. By the time I'd got it out and my eye had stopped streaming there was barely a flake left in the window. It was all over Didier's floor, his displays, his photo printer, his stunned assistant. Slumped in defeat I pulled out my phone and rang him. "Didier, there's a slight problem down at the shop. But I can explain everything..."
Neil Vesma's Architect's practice is at Villeréal near Bergerac. Email This email address is being protected from spambots. You need JavaScript enabled to view it.or tel 0033 675 847 176, or visit his website www.neilvesma.com