January 2012 | Turning training courses into an art form
Monday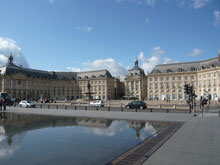 Oh dear. I have a two-day training course today and tomorrow. It's entitled Ordonnancement Pilotage et Coordonnation, which roughly translates as day-to-day site management. I don't see why I should be the only one to suffer, so I have enrolled Pierre my site manager too.

"Why must I to go also? I know well my job." he had moaned through a gallic cloud of fag smoke when I'd told him. "It's like soap," I said, "if someone gives you soap for Christmas, it doesn't always mean they think you smell. Only sometimes." Pierre's grasp of his job is somewhat better than his grasp of my jokes, so I'm afraid that one fell rather flat.

I don't know about you, but training sessions tend to make me lose the will to live. I remember a particularly bad one about public sector tendering procedures that had me wanting to eat my own head after only ten minutes. But this one is relevant and it's in Bordeaux which I love, so it turns out OK. Afterwards we treat ourselves to a few oysters and buttered brown bread from the Boîte à Huitres by the Grand Theatre. Life is tough.
Tuesday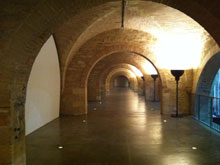 Today's training session includes a site visit to the Museum of Contemporary Art, converted from an old wine and spice warehouse near the Quays.
Inside, it looks more like a church than a commercial depot, with an austere brick-arcaded nave and aisles lit by high clerestory windows. Educationally, site-management-wise, the visit is not a success. You can't learn much about the contractual rights and obligations of artisans by gawping at half-plastered walls, so I wander off to look at the exhibits.
I like contemporary art, it can touch you in unexpected ways, and I particularly like a piece (not sure why) made up of several hundred identical soot-stained songbooks mounted on a white wall like a butterfly collection. I'm not so keen on the cement mixer full of pink fairy lights though.
Wednesday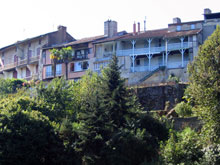 Le Mas d'Agenais is a small hilltop town overlooking the Canal du Midi which connects Bordeaux to the Mediterranean. Rick Stein cooked his way down the canal a few years back, but I'm here today to feast my eyes on one particular house near the Church.

The house is special because it's been built on, around and over the original brick ramparts of the town. From the front it looks a quite ordinary two-storey terrace on the Church square, but once you get inside you find it tips over the top of the old rampart and is six storeys high with 180 degree views to the slopes of vineyards 20km away. Spectacular!

For once my clients are French, young Parisians who have left their jobs in the media to create a boutique chambres d'hôtes (trendy B&B to you and me) with a contemporary colonial feel. Monique's time as a TV costume designer stands her in good stead when it comes to the decor, and Mathieu's promotional skills will find the right clientele. They're particularly keen on my idea of removing the back wall on the top floor to create a panorama from the bed and ask me to do a theme sketch. For tomorrow. Midnight oil time again...

Before I leave, Mathieu mentions that there's an original Rembrandt hanging in the Church next door. And so there is, Christ on the Cross. Valued at over £40 million, it was gifted to the parishioners of the town and hung completely unprotected until 1960, when the ministry of culture suggested it might be a good idea to put some bulletproof glass and an alarm system round it.
Thursday
Back down to Mathieu and Monique's with the sketch, and with matchsticks holding my eyes open. They like the contemporary feel, and the small gym overlooking the bamboo-shaded zen garden. The budget may be a problem though. We agree to tender all the works and then, like selecting from a menu, they will choose what's tasty and affordable. But this is a long way off yet. We've got the hurdle of the ABF, the departmental heritage section, to jump first. I've had dealings on exactly this issue of a building adossé (literally on the back of) historic ramparts. You're not allowed to touch a single brick without the ABF's say-so. Normally the planners have no say on the interior, but here they do. We've done an incredibly detailed measured survey and I'll get the head of department out on site before work starts, so we can agree cable routes and finishes that don't impact on the site's history. My ultimate aim is to enhance the setting of the historic fabric and so add character and value to the house and their business.
Friday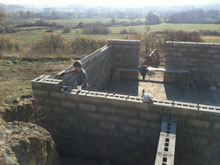 My clients Ben and Caroline have done a 24-hour flying visit to see their new house starting to come out of the ground near Lauzun in the Lot-et-Garonne. Theirs is a lovely site that was in the Diary in June of last year when Bruno my cycling-mad geologist friend was doing the soil investigation. It site on a small escarpment on the edge of the village with wonderful views but really quite windy. They are impressed with the sheer amount of concrete and steel anchoring the building to the hillside, and Ben goes over to one of the three bricklayers to talk. "Bonjour," he says, "parlez-vous Anglais?" The bricklayer smiles as he lays down his trowel. "Naw really no," he replies "ah'm Glaswegian." Maybe he needs a training day or two?
Neil Vesma's Architect's practice is at Villeréal near Bergerac. Email This email address is being protected from spambots. You need JavaScript enabled to view it.">This email address is being protected from spambots. You need JavaScript enabled to view it. or tel 0033 675 847 176, or visit his website www.neilvesma.com