December 2011 | A project comes back to life in Dr Frankenstein's lab
Monday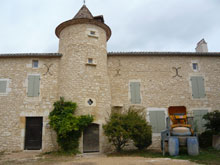 Site meeting all day at the Blythes' manor house renovation, now entering its last month. I expect to be here again later this week as we are now into detailed discussions with the clients over finishes and fittings. Pierre who is managing the project for me may as well bring his bed. I count fifteen vehicles on site including the obligatory fourgons blancs, white vans, but not including cement mixers or forklifts, as the push to complete on time gets under way.
While Pierre and Mr B run through manly things like wrought iron balustrades and flagstone coursing directions, Mrs B and I concentrate on colour schemes. It's difficult for a lay person to judge how a room will feel until it's built, so we couldn't make the choice any earlier. Now the pressure's on to decide. It's remarkable how one tone of white looks just right next to a deep ruby red, but looks dirty against a dark blue. And you can never tell how a whole wall will look from a small sample swatch. Mrs B starts to panic until I suggest it's OK to make a mistake and we can always overpaint a wall, or even a whole room, if she feels she can't live with her original choice. The kitchen is especially complex as we need to harmonise the paintwork with the kitchen units, their marble tops, the oak ceiling, four carved boars' heads and the stone flagged floor, but we finally agree on a vanilla white which sets off the warm tones of the building and the cool blue-greys of the kitchen fittings.
It has been a crisp, clear day and the sunset as I drive off is spectacular, with colour combinations at the horizon that not even I would dare to suggest.
Tuesday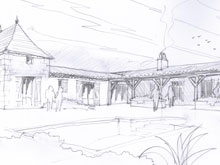 Good news! After six months, we get the go-ahead on a farmhouse refurbishment scheme near Angouleme which I had not expected to win. I had archived it as a dead project, so I bring the file back to life. I like to pretend I do this in the fashion of Dr Frankenstein in the Boris Karloff movie, with a mountain-top castle and a lightning bolt, yelling "IT'S ALIVE! IT'S ALIVE!", but in fact I merely move the folder from one shelf to another.
It's for a young couple looking to create a B&B with horseriding facilities. The countryside is beautiful but they specifically wanted to improve the look of the rather austere house for the website. I had done a theme sketch creating a new bedroom wing and terraces around a landscaped pool, which seems to have tickled their fancy. I ring them to thank them for placing their trust in me, and make arrangements to get the house measured.
Wednesday
More good news, we have received Planning Permission for Dougal's new house in the Loire valley. I'm especially pleased as I took the job over from a French architect who had his scheme refused. It's always difficult taking a project over, as the Planners tend to be on the defensive second time round, but I had worked hard at it in the French style, meeting officials face to face and talking through the issues until we reached a consensus. And the approval came through quickly. I'd told Dougal it could be another couple of months. I feel so proud I consider buying lunch for everyone in the office but, being naturally tight-fisted when it comes to my co-workers, I get them a croissant each instead.
Thursday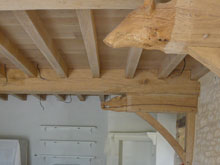 Three good news days in a row, and this is maybe the best. The office balcony has won a prize in the Lot-et-Garonne floral display competition. Second prize, no less. Office gossip immediately turns to wondering who came first, opinion favouring the balcony over the butcher's shop in the market square here, which is consistently splendid. I firmly put down Mickael's defamatory allegation that the butcher was under the influence of performance-enhancing drugs while he watered his plants and should therefore be disqualified.
Back down to the Blythes' later, where the metalworker needs details for the new pergola, whose grapevines will shade the kitchen in the summer and let sunlight in during the winter. I find the internal oak board doors have been rehung, after Pierre had told the joiner he'd forgotten to chamfer the board edges and to take them away again and put them right.
Still there in the early evening, I start work on the final snagging, that painful process of reminding the artisans that they have a duty to leave the finished project in perfect condition. We only get one shot at this, so we have to be sure every cement smear and every sticking doorhandle is logged and ultimately put right.
Friday
It being Friday afternoon, nobody else in the country seems to be working so I decide to head off for a quick bike ride before it gets dark. The sky looks a little threatening but not that bad so I don't take a waterproof.
I've just bought a second-hand vélo de course, and it's one of these racing bikes that are so light they float away if you're not sitting on them. I'm still getting used to the gears and pedal clips so it's a while before I relax enough to look around. The bones of the southern Dordogne landscape are laid bare by the leafless trees but it's still beautiful, the folds of the valleys and the crows blowing by in the wind, and I lose any sense of time.
I'm brought back to earth, literally, when I mess up the gears on a nasty little steep pitch, stop dead and can't get my feet out of the pedals in time. I crash onto the tarmac, my fall fortunately cushioned by a pile of manure left by some passing tractor. I'm sprawled on the road with the bike on top of me when my mobile rings. In a daze I answer it. Bad move. It's Charlotte to tell me my 4pm appointment has been waiting for twenty minutes and where am I? I think of telling her to tell him the truth but it wouldn't look very professional, would it? I tell myself at least it can't get any worse. Then it starts raining.
Neil Vesma's Architect's practice is at Villeréal near Bergerac. Email This email address is being protected from spambots. You need JavaScript enabled to view it. or tel 0033 675 847 176, or visit his website www.neilvesma.com